"She sights a Bird - she chuckles -"
poem by Emily Dickinson (about 1862)
She sights a Bird - she chuckles -
She flattens - then she crawls -
She runs without the look of feet -
Her eyes increase to Balls -
Her Jaws stir - twitching - hungry -
Her Teeth can hardly stand -
She leaps, but Robin leaped the first -
Ah, Pussy, of the Sand,
The Hopes so juicy ripening -
You almost bathed your Tongue -
When Bliss disclosed a hundred Toes -
And fled with every one -
---
Poem #507, from The Complete Poems of Emily Dickinson, edited by Thomas H. Johnson (Little, Brown), copyright 1955 by the President and Fellows of Harvard College
The great - is she the greatest? - American poet Emily Dickinson wrote this poem during her most productive time, the Civil War (1861-65). Unlike in many of her poems at this time, death does not take place, either actually or in the imagination, but is avoided. Is the poet just sharpening her pen point before resuming her magical exploration of Heaven and Earth? I can't imagine a more perfect warm up. And the conclusion: say it out loud:

When Bliss disclosed a hundred Toes -
And fled with every one -
From what I've gleaned from her poems - I've read about 200 of her more than 1700, some scores of times, and memorized many - Dickinson did not especially like cats, maybe because she loved birds, which she identified with in at least one poem. The funniest lines I have read by her are in the poem that begins "I cannot dance upon my toes" (poem #326, written about 1862):

And though I had no Gown of Gauze -
No Ringlet, to my Hair,
Nor hopped to Audiences - like Birds,
One Claw upon the Air,
---
I devoured a great biography of the poet that appeared in 2001, My Wars Are Laid Away in Books, by Alfred Habegger (Random House, New York). I know of few lives so unremarkable that were so remarkable.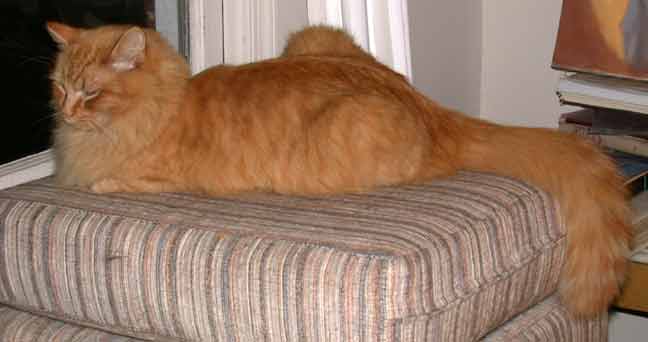 The Supreme Kitten
The magnificent The Supreme Kitten, aka Moritz Jablowski, was born in my back yard in the summer of 2000 to the beautiful and feral Mrs. Jablowski, but his father is unknown. Calling Mr. Jablowski!
Mrs. Mildred Jablowski

Teeger Jablowski, a sister to The Supreme Kitten.

In July, 2002, something broke Teeger's tail, maybe a car, and I had most of it amputated. She's now an indoor cat with a tail the size of a Vienna sausage. Teeger's at the bottom of every pecking order but mine. (She died at 17 in 2017.) (All photos by Harry Finley)