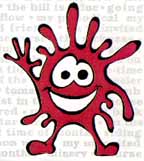 Think you don't know what other people, male and female, think about periods?
Look at a friend comes to visit, a 30-minute video interview of many folks about their attitudes about menstruation produced by Laura James and directed by Lorena David.
I found the best part late in the film, when most of the women confess that they really don't like it, something I didn't know before I started the museum.
Get all the facts at Kingsize Entertainment, (U.S.A.) 323-467-7199 or fax: 323-467-7201. Visit the Web site!