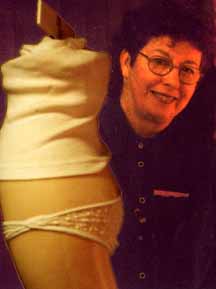 Megan Hicks smiles next to a mannequin in this museum; it's wearing an American "Sanitary Panty-kini," panties made with loops in the crotch to hold the large - and not adhesive - menstrual pads of the 1960s and early 1970s. Modess, a part of Personal Products Company, itself a part of Johnson & Johnson, sold them. A Midwesterner gave the underpants to this museum. (Inspect another Modess pad panty with similar loops, shown with a pad in place.) See more of the former museum.
Photo by Harry Finley
Curator of medicine for Australia's largest museum visits MUM
Curator Megan Hicks, caught peeking around a mannequin in the (closed) physical Museum of Menstruation last Saturday, toured MUM on her American and European tour of medical exhibits, which included the Exploratorium in San Francisco and the Smithsonian Institution (the largest museum in the world) and the National Museum of Health and Medicine here in Washington, D.C. From MUM she flew to New York to witness some surgery before zipping over to London, Berlin and Amsterdam, among other cities.
You lucky woman!
We discussed a MUM contribution to an exhibit about menstruation she's hoping to have for the Powerhouse, her museum in Sydney, and the happy possibility of the contents of this museum moving to hers in case a public home for the museum can't be found in the U.S.A.
She convinced me that Australian museums are more willing to create exhibits about menstruation, contraception and women's health in general, as she has very successfully done.
Another Australian, Dr. Philip Thomson, Honorary Curator in Medical History at the Tasmanian Museum, visited this museum five years ago as a part of his American and European medical-museum tour as a Winston Churchill Fellow.
He told me he had almost driven off the road in shock one morning on the way to work listening to the radio tour of the Museum of Menstruation on the Australian Broadcasting Corporation. (Read some words from the show's producer.)