American Meds tampon and ad, 1967 - American Meds ad, 1941
And read Lynn Peril's series about these and similar booklets!
See more Kotex items: First ad (1921) - ad 1928 (Sears and Roebuck catalog) - Lee Miller ads (first real person in amenstrual hygiene ad, 1928) - Marjorie May's Twelfth Birthday (booklet for girls, 1928, Australian edition; there are many links here to Kotex items) - Preparing for Womanhood (1920s, booklet for girls; Australian edition) - 1920s booklet in Spanish showing disposal method - box from about 1969 - "Are you in the know?" ads (Kotex) (1949)(1953)(1964)(booklet, 1956) - See more ads on the Ads for Teenagers main page



Very early American menstrual cup patent, 1867
A man from Chicago designed this menstrual cup attached to the end of wire - could only a man have designed it? - which was in turn attached to a belt around the woman's waist. It's not certain it was ever manufactured, but there were similar devices to hold the uterus in place in the last century, like here, but attached to a belt.
See the history of the modern menstrual cup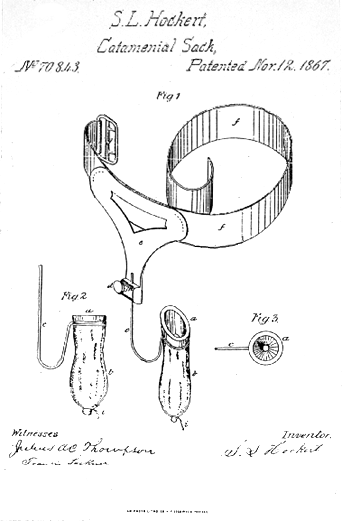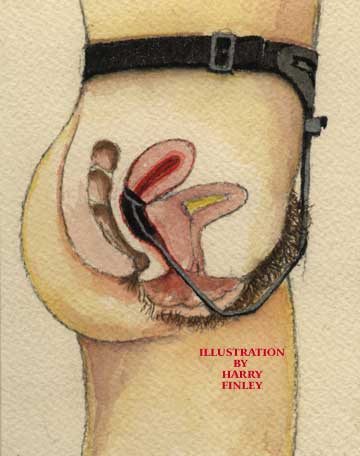 This cutaway at left shows how the sack would look when worn. (Drawing by Harry Finley)

The fabulous Max Brödel made the beautiful drawing below (it's in Kelly's Gynecology, 1928 edition), showing a wound (note the Pus Cav., pus cavity) caused by a pessary, a device to hold the uterus in place. In some ways it's similar to the catamenial sack above.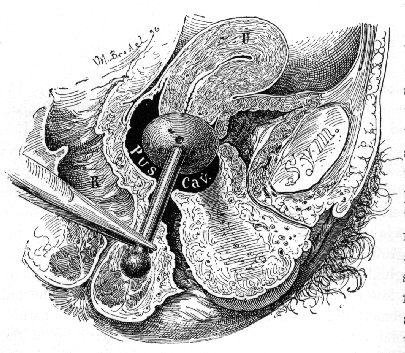 See the history of the modern menstrual cup.
© 1998 Harry Finley. It is illegal to reproduce or distribute any of the work on this Web site in any manner or medium without written permission of the author. Please report suspected violations to hfinley@mum.org