See early tampoms Wix and B-ettes and a bunch of other earlier ones.
See some Kotex items: First ad (1921) - ad 1928 (Sears and Roebuck catalog) - Lee Miller ads (first real person in amenstrual hygiene ad, 1928) - Marjorie May's Twelfth Birthday (booklet for girls, 1928, Australian edition; there are many links here to Kotex items) - Preparing for Womanhood (1920s, booklet for girls; Australian edition) - 1920s booklet in Spanish showing disposal method - box from about 1969 - "Are you in the know?" ads (Kotex) (1949)(1953)(1964)(booklet, 1956) - See more ads on the Ads for Teenagers main page



Nunap menstrual tampon, U.S.A., early 1930s
The Nunap tampon might be the fax tampon, possibly the first commercial tampon; look at the identical drawings (below)! And both have the same manufacturer's address, although different company names. Actually, the addresses for Moderne Woman, Nunap and fax tampons are all within 9-15 minutes driving distance of each other - today, anyway, as was at least one Chicago Kotex pad address in 1922 - and another! All within a tight radius in Chicago. Why did Kotex (so to speak) hop from one address to the other?
Note, too, that the tampon is made of Cellucotton, which Kimberly-Clark created and made for bandages in World War I and then later made for Kotex. It then sold Kotex from its subsidiary company, Cellucotton Products Company, located in Chicago, which is where so many other early tampons were headquartered. And as demonstrated by the creation of Cellucotton Products Company, Kimberly-Clark was not averse to creating separate companies for its products.
Did K-C make Nunap and fax before it produced the Fibs tampon in the late 1930s? If so, the company could claim to have made the first widely successful disposable menstrual pad in the United States as well as probably the first commercial tampon!
As with the fax, there are no dates on any of the material, but I suspect both were made in the early 1930s. And the name Nunap probably is short for "new napkin," using the same reference to a napkin, not a tampon, that fax uses, probably because the public would not have known what a tampon was. The company name, Neway, emphasized this newness.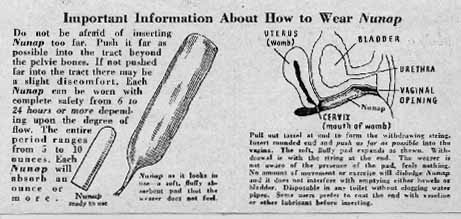 Instructions in Nunap box (above). See interior pages at bottom of this page.
Back of fax box (above); drawing is identical to top drawing.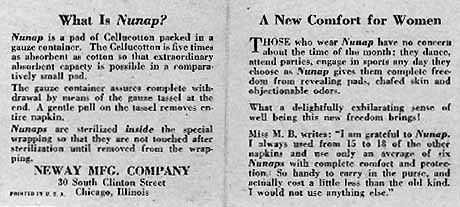 Inside of Nunap instructions (above). Cellucotton was a product of Kimberly-Clark.
See early tampoms Wix and B-ettes and a bunch of other earlier ones.
© 1998 Harry Finley. It is illegal to reproduce or distribute any of the work on this Web site in any manner or
medium without written permission of the author. Please report suspected violations to hfinley@mum.org