Kotex ad emphasizing shame, 1992. Similar Kotex ad in Malaysia.
Compare the American "Modess, because . . ." ads, a French Modess ad, a French ad featuring just a man!, and ads for teens.
See Kotex items: First ad (1921) - ad 1928 (Sears and Roebuck catalog) - Lee Miller ads (first real person in amenstrual hygiene ad, 1928) - Marjorie May's Twelfth Birthday (booklet for girls, 1928, Australian edition; there are many links here to Kotex items) - Preparing for Womanhood (1920s, booklet for girls; Australian edition) - 1920s booklet in Spanish showing disposal method - box from about 1969 - "Are you in the know?" ads (Kotex) (1949)(1953)(1964)(booklet, 1956) - See more ads on the Ads for Teenagers main page



Kotex menstrual panty pad ad with a man and no woman,
The Netherlands, 2000
I know of only three other ads for menstrual hygiene featuring just a man. Two are for the French Nana and still puzzle me (here and here). The other is almost a mirror of this one but for Malaysia - a Muslim country! And he smirks. But in general I think it's healthy to connect men with menstruation although not in the sense that only a man could cause such misery, which led a Welsh woman to write me, "When I was in school we used to say 'Henry was here,' as only a man could cause such pain and inconvenience." (See Words and expressions for menstruation, Wales section.)
The man says, "Unbelievable. . . so thin, now I get why I don't see anything."
Margot van Mulken kindly sent me this ad, one of scores, along with many photocopies as part of her research for her article "De verpakking van maandverband: De ontwikkeling van retoriek in tijdschriftadvertenties" in Tidschift voor Genderstudies, 2005-1.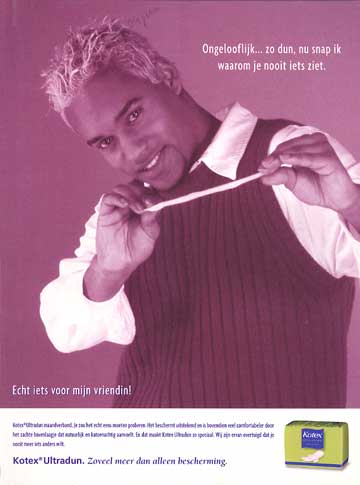 © 2006 Harry Finley. It is illegal to reproduce or distribute any of the work on this
Web site in any manner or medium without written permission of the author.
Please report suspected violations to hfinley@mum.org