See other flushable pads: Society (American?, 1920s - 1930s?), Modess (American, 1972) and Sani-Flite (American, 1971)
See more Kotex items: First ad (1921) - ad 1928 (Sears and Roebuck catalog) - Lee Miller ads (first real person in amenstrual hygiene ad, 1928) - Marjorie May's Twelfth Birthday (booklet for girls, 1928, Australian edition; there are many links here to Kotex items) - Preparing for Womanhood (1920s, booklet for girls; Australian edition) - 1920s booklet in Spanish showing disposal method - box from about 1969 - "Are you in the know?" ads (Kotex) (1949)(1953)(1964)(booklet, 1956) - See more ads on the Ads for Teenagers main page



Ad for the early beltless menstrual pad New Freedom (1971, U.S.A.)
See the page for the sanitary napkin itself and a discussion.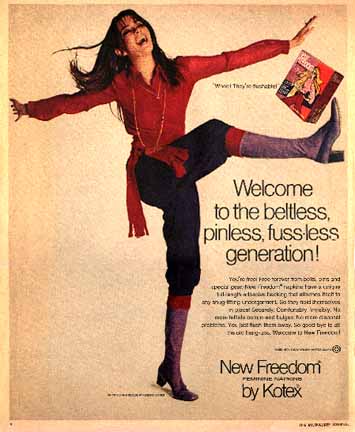 The woman is saying, "Whee! They're flushable!" Small words near her foot read, "Knickers and blouse by Robert Leader," a touch unfathomable to this male reader.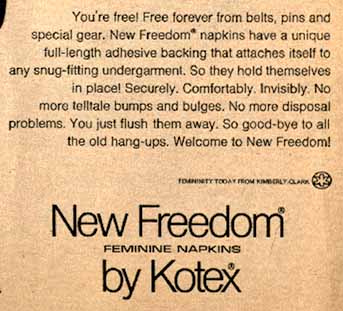 The slogan "FEMININITY TODAY" and the designation"FEMININE NAPKINS" seem designed to reduce the bad feelings conjured up by menstruation.
See other flushable pads: Society (American?, 1920s - 1930s?), Modess (American, 1972) and Sani-Flite (American, 1971)
© 1999 Harry Finley. It is illegal to reproduce or distribute any of the work on this Web
site in any manner or medium without written permission of the author. Please report s
uspected violations to hfinley@mum.org