See early tampoms Dale, Wix and B-ettes and a bunch of other earlier ones.
Ad Aug 1965 - actress Susan Dey ad, 1970 - gymnast Mary Lou Retton ad, 1986 - ad, British, 1994 (the thong advantage)
See more Tampax items: American ad from August 1965 - nudity in an ad: May 1992 (United Kingdom) - a sign advertising Tampax during World War II - the original patent - an instruction sheet from the 1930s
See a Modess True or False? ad in The American Girl magazine, January 1947, and actress Carol Lynley in "How Shall I Tell My Daughter" booklet ad (1955) - Modess . . . . because ads (many dates).



Playtex Sport menstrual tampon, 2006 (?), U.S.A.
Tampon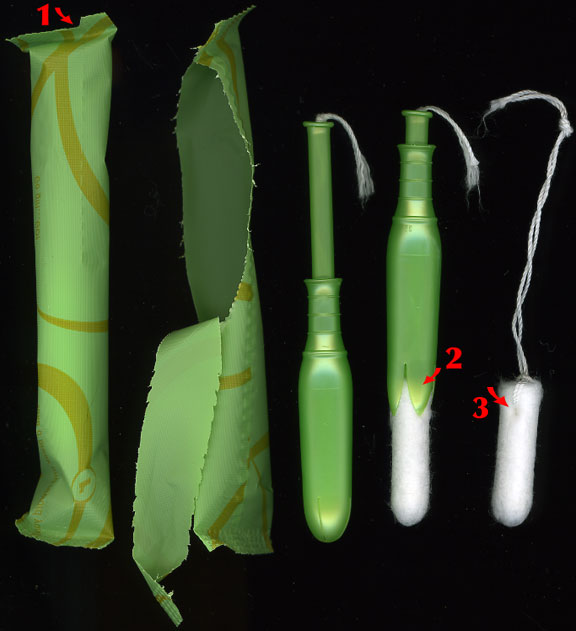 Arrows: #1 shows a notch that helps ripping the cover open and dampens the sound; heaven forbid that anyone else in a women's restroom should think someone was using a tampon.
#2 The petal-like opening of the applicator. Flowers have long been linked with menstruation, maybe even ironically, although the word itself probably came from French and meant "flow." And the camellia has had a bizarre association with menstruation in Germany.
#3 The string penetrating the plug, seen also in early tampons.
© 2007 Harry Finley. It is illegal to reproduce or
distribute work on this Web site in any manner or
medium without written permission of the author. Please report suspected violations to hfinley@mum.org