See the same ad from the U.S.A., 1938, with slightly different text.
More Tampax ads:
Ad Aug 1965 - actress Susan Dey ad, 1970 - gymnast Mary Lou Retton ad, 1986 - ad "Are you sure I'll still be a virgin?" Feb. 1990 - ad (British, nude) 1992 - Tampax sign (World War II) - ad, British, 1994 (the thong advantage)
See a Modess True or False? ad in The American Girl magazine, January 1947, and actress Carol Lynley in "How Shall I Tell My Daughter" booklet ad (1955) - Modess . . . . because ads (many dates).


Tampax tampon ad, the Netherlands,
21 July 1938, in Panorama magazine
Until recently I believed that commercial tampons hadn't existed in Europe until after World War II, when o.b. appeared in Germany. Women had apparently sewn their own tampons (and I'm sure made them other ways, too) since at least the beginning of the 20th century.
Silly me! Tambrands, the former maker of Tampax, sent me a box of Tampax from its archives that a company hand dated 1938 - and the box was in French. I thought that maybe the box had been destined for French Canada. Maybe it had but it shook my confidence.
Now I have proof: a Dutch contributor sent me the ad below for Tampax from the Dutch Panorama magazine, dated 21 July 1938. (A week later the same magazine had an ad for Nefa sanitary napkins, probably a native Dutch brand.) See the same ad in 1938 with slightly different text (in translation, of course) from the U.S.A.
The ad text reminds me of an American Tampax ad of the time. The company had truly something new: a tampon with an applicator (see one of the first ones), which competed with applicator-less tampons like Wix.
Compare this bright ad with the almost secretive one for Modess from Great Britain from two years earlier. I wonder if they reflect something in the two nations' temperaments.
Note that we see no picture of a tampon, which at this time was new.
I thank very much the Dutch contributor of this ad!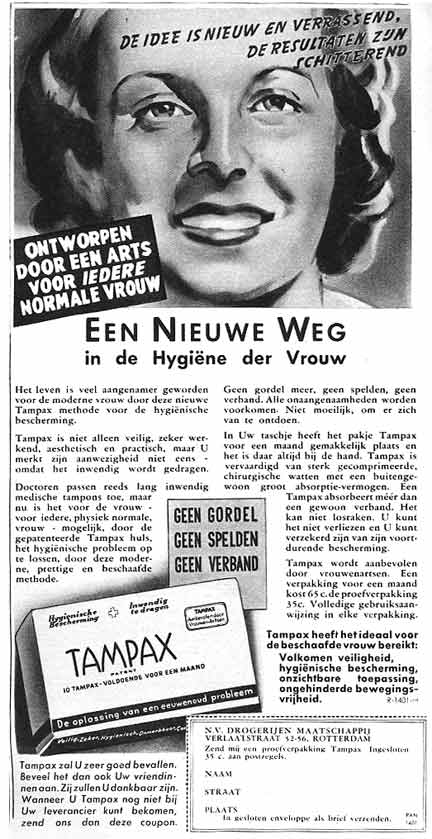 My translation of the main text, working down from the words on the woman's forehead:
The idea is new and surprising, the results are glorious.

Invented by a doctor for every normal woman.

A new way in woman's hygiene.

Life is much more comfortable for the modern woman through this new Tampax method for hygienic protection.

Tampax is not only secure, sure, esthetic and practical, but you don't feel its presence because it's worn internally.

Doctors have long used medical tampons, but now it's possible for women - every physically normal woman - to use the patented Tampax to solve the hygienic problem through this modern, pleasant and refined method.

No belts anymore, no pins, no pads. All unpleasantness is removed. Not difficult to dispose of.

In your purse you always have a good month's supply at hand. Tampax is made of a strong surgical cotton with an extraordinarily high absorption capacity. One Tampax absorbs more than a sanitary napkin. It can't get loose. You can't lose it and you can be sure of its continual protection. Tampax is recommended by gynecologists. One pack for a month costs 65 c[ents?], the trial pack 36 c. Complete instructions in each pack.

Tampax puts within reach of the refined woman: complete safety, hygienic protection, invisible fit, unhindered movement.

[Text under the Tampax box] You'll like Tampax. Recommend it to your friends. They'll be thankful. if you can't find it at your dealer send us this coupon.
The same ad from the U.S.A., 1938, slightly different text - Tampax ad Aug 1965 - actress
Susan Dey ad, 1970 - gymnast Mary Lou Retton ad, 1986 - ad "Are you sure I'll still be a virgin?"
Feb. 1990 - ad (British, nude) 1992 - Tampax sign (World War II) - ad, British, 1994 (the thong advantage)
© 2005 Harry Finley. It is illegal to reproduce or distribute work on this Web site
in any manner or medium without written permission of the author. Please report
suspected violations to hfinley@mum.org