Chinese menstrual belt and pad and - Chinese pad - Japanese pad, older



Chinese Panty Pads (Huitlao brand)
A visitor to these pages, Paige Maston, wrote that she knew three persons who were shoving off to China and did I want anything menstrual from that country?
I put in my order for the elusive Chinese menstrual cup, which other voyagers have sought in vain, and for anything native to that culture.
I first heard about the cup's being examined at an unidentified hospital in Canada with the thought it might sell there and in the United States. Someone told me that the cup had a spigot, which would make it unsalable in the U.S.A. but which made your MUM want to put her fat little hands on it!
Well, your MUM's helpers came up cupless, but did kindly send Chinese panty pads and winged pads for the museum's displays and for this Web site.
I find the use of English on the packages and the pads themselves interesting. English appears on many non-English language menstrual products.
Two of the travelers, Dr. Pilar Galupo and Dr. Paz Galupo, are on a medical mission to China and will spend a year there. The third, their daughter Ms. Pilar Childers, has vowed to find that rascal, the cup!
I heartily thank all three, plus Paige, for their efforts!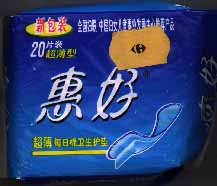 The soft pack for the panty pads, above.
© 1999 Harry Finley. It is illegal to reproduce or distribute any of the work on this Web site in any manner or medium without written permission of the author. Please report suspected violations to hfinley@mum.org