The Museum of Menstruation and Women's Health

Three Kotex Menstruation Pamphlets, Possibly Ordered
by a Canadian in 1938
The Cellucotton Products Company, formed by Kimberly-Clark Corporation to manufacture and market Kotex menstrual pads and, in the late 1930s, Fibs tampons - K-C apparently didn't want to associate itself with menstruation - quickly spread to countries outside the U.S.A. in the 1920s. (See part of an early Kotex booklet in Spanish and a 1928 Marjorie May's Twelfth Birthday published in Australia.)
The booklets below came from Canada, but I suspect they are identical to American editions. One clue is the appeal to the birthdays of George Washington and Abraham Lincoln in Marjorie May Learns About Life, a reference not bound to stir Canadians.
In this Birthday, the author, Mary Pauline Callender (her photo) - if that is the author's real name - has toned down her language and done other editing of earlier editions. (Compare the first pages of the 1928 with this 1935 version.) But I still find some of the writing stilted and just plain bad (more comments here). I like As One Girl to Another, a slightly later Kotex booklet, better.
The third booklet, Facts About Menstruation that every Woman should know, accompanied the others in the envelope (bottom-most picture), which I bought at auction. I would guess that it was the envelope containing the booklets that the addressee received from Cellucotton Products Company, although the address does not match those in the booklets. But that happens today, too.
Another envelope containing an American edition of the same booklets appears at bottom.
The booklets, black and white, are roughly the same size, about 5" x 3.5" (about 12.7 x 8.9 cm.).
---
| | |
| --- | --- |
| | |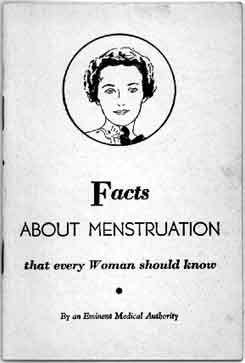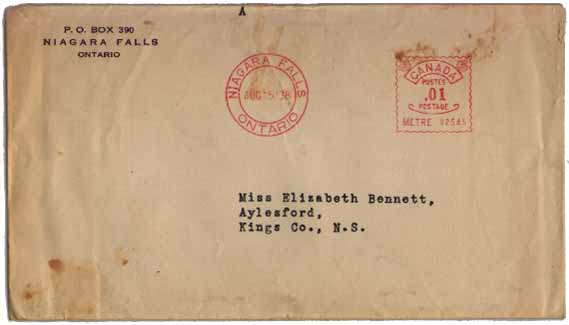 This envelope, postmarked August 15, 1938, contained the three booklets when I bought the items at auction.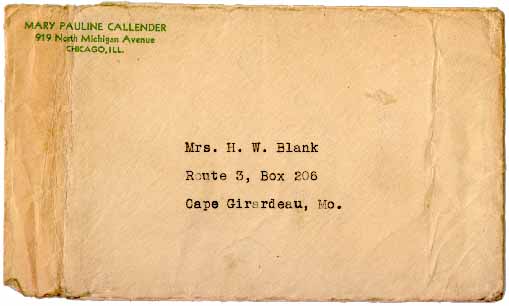 The envelope containing an American edition of the same three booklets. These booklets - not shown on this site - which differ slightly in typography from the Canadian ones, are also from the mid-1930s. The text seems to be the same. I can only guess that another envelope contained the above one, thus explaining the lack of postage and postmarks.
Ms. Callender's address is the same as the place where people can request additional copies of the booklets, as advertised in the booklets.