See the Modess teaching guides covers (1962 and 1973)
See ads for menarche-education booklets: Marjorie May's Twelfth Birthday (Kotex, 1933), Tampax tampons (1970, with Susan Dey), Personal Products (1955, with Carol Lynley), and German o.b. tampons (lower ad, 1970s)
And read Lynn Peril's series about these and similar booklets!
See more Kotex items: First ad (1921) - ad 1928 (Sears and Roebuck catalog) - Lee Miller ads (first real person in amenstrual hygiene ad, 1928) - Marjorie May's Twelfth Birthday (booklet for girls, 1928, Australian edition; there are many links here to Kotex items) - Preparing for Womanhood (1920s, booklet for girls; Australian edition) - 1920s booklet in Spanish showing disposal method - box from about 1969 - "Are you in the know?" ads (Kotex) (1949)(1953)(1964)(booklet, 1956) - See more ads on the Ads for Teenagers main page



The Museum of Menstruation and Women's Health
Teacher's Kit for Modess sanitary napkins, menstrual tampons and panties (1968), U.S.A.
Educational Portfolio on Menstrual Hygiene
Almost complete
Starting probably in the late 1940s, companies like Modess, Kotex, Pursettes, Tampax made, and sometimes still make, kits for schools, enabling teachers to use the material to explain menstruation and puberty to American girls - today, sometimes also to boys - and let the captive audience see their products, hoping they will use them for life; they often did. Sometimes the companies also supplied films, such as the famous one from Walt Disney.
I thank a Texan for this great Christmas present!
Below: the cover of the portfolio that contains the material in the following pages. Folded, it measures 8.5 x 11" (21.5 x 28 cm). The girl on the cover stars in Growing up and liking it (1964).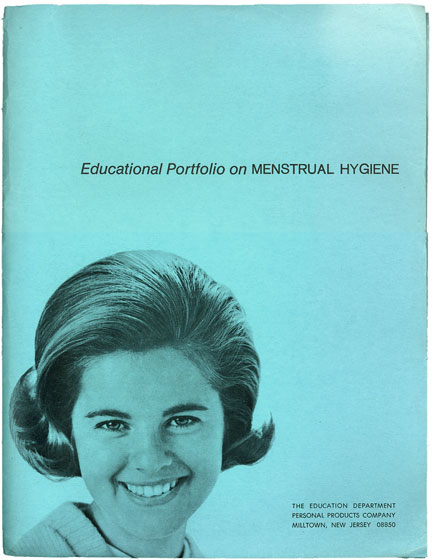 © 2006 Harry Finley. It is illegal to reproduce or distribute any of the work on this Web
site in any manner or medium without written permission of the author.
Please report suspected violations to hfinley@mum.org