See a Modess True or False? ad in The American Girl magazine, January 1947, and actress Carol Lynley in "How Shall I Tell My Daughter" booklet ad (1955) - Modess . . . . because ads (many dates).



Museum of Menstruation and Women's Health
A man holds a Libresse menstrual napkin in an ad
(1978, the Netherlands)
Although this ad in a Dutch newspaper might be the first or among the first to show a man with a menstrual napkin, men of course have always developed products and worked in the menstrual products industry. But this might be their outing.
The ad praises the male purchasers and retailers who helped make Mölnlycke the second-place brand in the Netherlands, after Kotex, and in only two years. A brave man at the bottom of the page holds aloft one of the company's napkins. See another Dutchman holding a pad! And a pleased Frenchman!
Quiz: How many American ads show men holding pads or tampons? Zero, as far as I know. But then the Dutch live in a famously advanced culture.
The kind Dutchman who has sent so many items to MUM sent these scans and information.
Below: "Not all men are afraid of menstrual pads" screams the headline in this full-page ad in the Dutch newspaper Volkskrant, 28 December 1978.
Essentially, the ad praises the men - and one woman! - who as business purchasers and retailers helped vault Libresse pads into second place (behind Kotex) in the Netherlands. The second and third paragraphs read (my translation):
Afraid that their masculinity would be affected, maybe? Ladies, forgive them - menstruation is a persistent taboo.

The oldest taboo in the world perhaps (according to some scholars the word taboo comes from "tapua," ancient Polynesian for menstruation).
At the bottom of the ad we read:
Mølnlycke compliments the Dutch men who without blushing buy the right sanitary napkin.
Below: The ad creators discussed the ad in a Dutch magazine and reproduced this easier-to-read version (if you read Dutch, that is).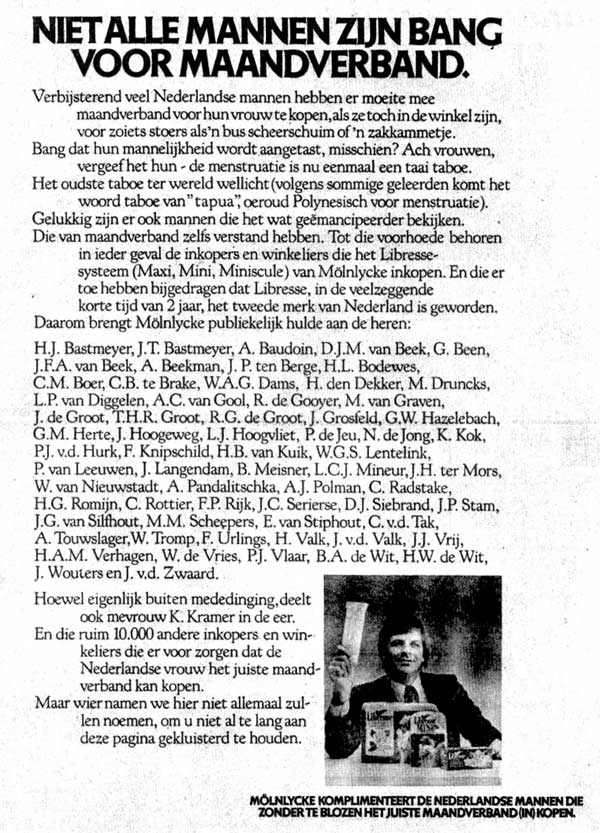 Below: The picture on the package is the same as on the ad from the previous year.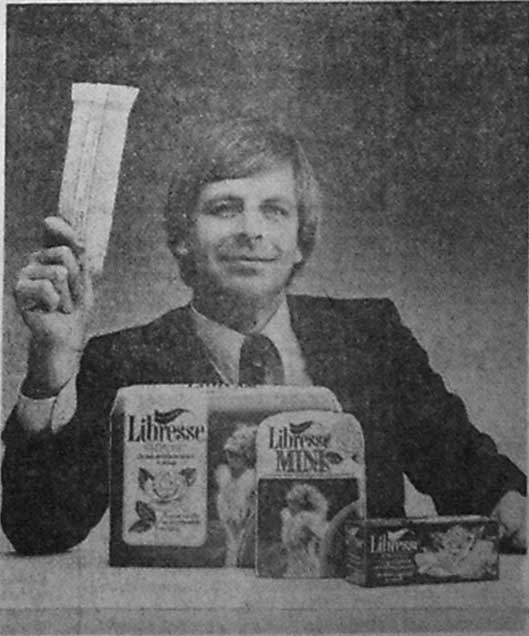 See Libresse ads right before this time.