See more Tampax items: American ad from August 1965 - nudity in an ad: May 1992 (United Kingdom) - a sign advertising Tampax during World War II - the original patent - an instruction sheet from the 1930s
See a Modess True or False? ad in The American Girl magazine, January 1947, and actress Carol Lynley in "How Shall I Tell My Daughter" booklet ad (1955) - Modess . . . . because ads (many dates).



Was Tampax the first French commercial tampon?
Tampax menstrual tampons, 1938, France and U.S.A.
Boxes
Tampax was probably the first commercial tampon in the U.S.A. (but see some contenders: Nunap, Moderne Woman, fax) although women have probably made their own for thousands of years (see some hieroglyphics about tampons).
In Small Wonder, the Tampax company history, the writer claims that in late 1938 Tampax created a company in England to do business in continental Europe, which would include France. But as you can see, a Tampax hand marked the box below as 17 June 1938, not exactly late. Maybe the American Tampax company shipped these to France before continental operations started (the French box says it was printed in the U.S.), although you'll also notice in the bottom images that there was a French base of operations - or at least that's the way it looks to me. Ah! The romance of a menstrual mystery!
Compare the French box with an American one from three months earlier, below, both gifts from the Tampax archives.
See Dutch Tampax ads from 1938 (and here, virtually identical to a contemporary American ad) - which means Tampax was sold there. And look how similar the boxes are to the ones below.
The boxes measure 13 x 7.7 x 3 cm (about 5" x 3" x 1.125")
See many early tampons from the U.S.A. See instructions for the 1936 Tampax - and the box, etc.
Tambrands generously donated these boxes, part of a large gift of menstrual products from its archives.
Harry Finley created the images.
Fronts, ABOVE. Someone from Tampax wrote the dates on the upper right corners. The backs look the same,
but without notations.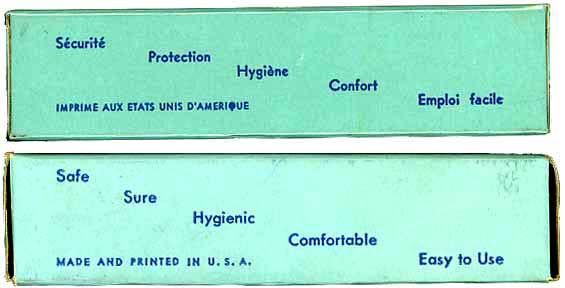 Above and below: the long sides. Below: See the safety pins the words mention.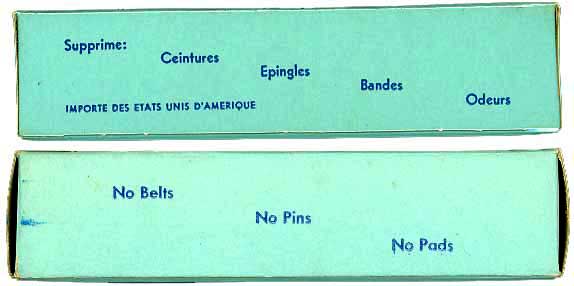 Below: the ends. Cellophane encases the French box but not the American;
someone at Tambrands probably removed it.
---

NEXT: sample box (France) and American six-pack, typography, tampons, interior of directions, exterior of directions
See more Tampax items: See instructions for the 1936 Tampax - and the box, etc. See Dutch Tampax ads from 1938 (and here, virtually identical to a contemporary American ad)American ad from August 1965 - nudity in an ad: May 1992 (United Kingdom) - a sign advertising Tampax during World War II - the original patent - an instruction sheet from the 1930s
copyright 2006 Harry Finley