Read an earlier discussion of this: What did European and American women use for menstruation in the 19th century and before?



Personal Digest Leaflet (Personal Products, 1966, U.S.A.)

Below is a Personal Digest leaflet from 1966, published by Personal Products, maker of Modess menstrual pads.. The sanitary belt and panty industry in the United States almost disappeared in the early 1970s because of the introduction of adhesive menstrual pads, which stick to the crotch of panties with an adhesive strip. Millions of women breathed a sigh of relief. But Kotex reintroduced a disposable panty recently (1998), I'm sure in response to a real need. Menstruation can be unexpected and messy. Men are lucky in many ways.
I suspect women found this leaflet in stores next to the Modess boxes, or perhaps in the boxes.
Pads attached to belts twisted easily (that's called "roping") and moved out of place. The pads chaffed women's legs and vulvas (see the Dickinson Report from 1945). Pads in that earlier era were thick and long (up to 20", almost 51 cm). The original Kotex pad (with tabs for pinning onto a belt or clothing) from 1921 was 22" long (almost 56 cm.)!
Companies and catalogs sold scores of kinds of belts from at least the last century to the present day. The Sears, Roebuck catalog even once offered a fancy trousseau sanitary napkin belt, I assume to be given to a woman about to marry! Here are some belts the museum owns.
I thank the former Tambrands, maker of Tampax tampons, for the Personal Digest leaflets!
Below: The two sides of the 4-panel, 10 7/8 x 4 1/2" (27.5 x 11.4 cm) paper leaflet.
When folded, the underexposed lady (far right, top) appears on front.
See Meds tampons from this era and Modess sanitary belts.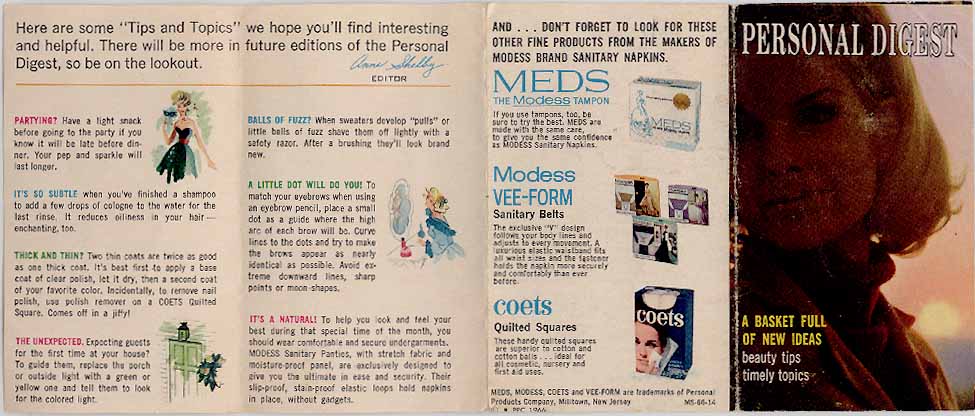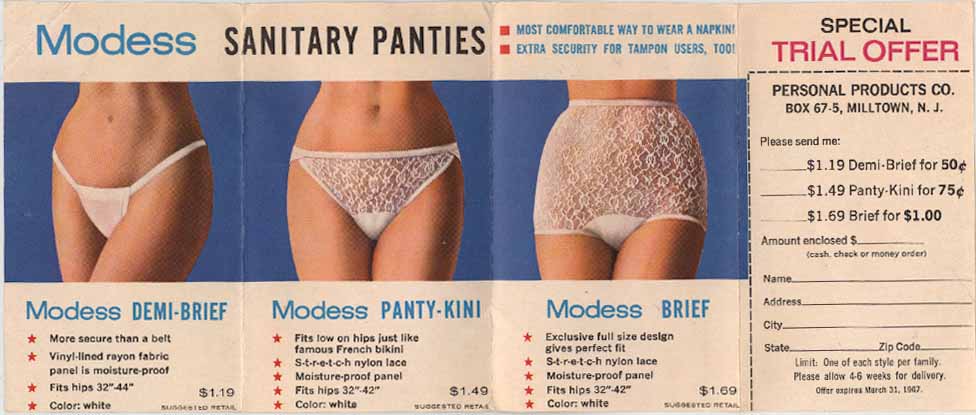 See more Personal Digest leaflets (here & here) and covers of many. See belts and pads on mannequins at MUM, actual belts in this museum, Hickory-brand belts, sanitary panties offered by Modess in the 1960s, and the directory of underwear.
Modess ad, June 1929 ("Never mind, Mother, you'll learn") - Modess ad about concealing pad, 1930 - Modess ad compared with Kotex ad, 1931 - ad, 1931 - wrapped Modess pad for dispenser, 1930s? - Ad, U.K., 1936 - True or False? ad in The American Girl magazine, January 1947 - Australian ad, 1957 - ad (1956) with "Modess . . . . because" ad incorporated into it - ad for "Growing Up and Liking It" booklet (1963, Modess) - actress Carol Lynley in "How shall I tell my daughter?" booklet ad (1955) - Modess . . . . because ads (many dates) - French ad, 1970s? - ad, French, 1972, photo by David Hamilton - Personal Digest leaflets (6), 1966-67: describe Modess products - How Modess Sanitary Napkins Began: excerpts from"A Company That Cares: One Hundred Year Illustrated History of Johnson and Johnson"



© 2008 Harry Finley. It is illegal to reproduce or
distribute any of the work on this Web site in any
manner or medium without written permission of the author.
Please report suspected violations to hfinley@mum.org