If you create or own art concerning menstruation or menopause and are interested in showing it on thesepages (it's free!), contact MUM
Marie Claire magazine (Italian edition) featured several of the above artists in an article about this museum and menstruation in 2003. The newspaper Corriere della Sera (Io Donna magazine) (Milan, Italy) and the magazine Dishy (Turkey) showed some of the artists in 2005 in articles about this museum.




The Art of Menstruation at the Museum of Menstruation and Women's Health
---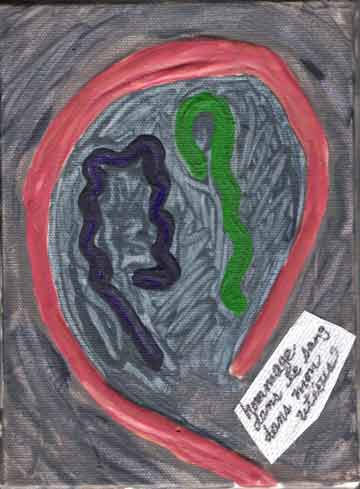 The artist e-mailed me: "I saved the blood from the last day of my last period (I had a hysterectomy last week) and mixed it with acrylics to paint an homage to my womb. I think the colours are interesting and I'm sure that they will change with time.
"Thank you for a site full of wisdom and encouragement.
"Yours, Luiza Brown"
Then she wrote the following:
I was feeling very apprehensive about my upcoming hysterectomy. My anxiety increased every time I spoke with a woman who had gone through the surgery; their comments seemed negative and spoke so much about "loss." I determined to do something positive, to in fact honor my womb rather than mourn its loss. So I decided to save the blood from the last day of my last period in order to incorporate it into some sort of piece of art.

I prepared the canvas by using a thick gesso base in which I painted the basic design; within my open uterus are forms representing my daughter and son. I used acrylic paints as my base and added blood to each. I think it's interesting the way the colors were affected. Already the painting is changing, as the colors mute and become even more organic-looking. I call it "Hommage dans le sang dans mon uterus." Sounds more mysterious/romantic in French, eh?

I am pleased to have found such an intimate and personal manner in which to deal creatively with the loss of my uterus. It feels good to have something concrete to relate to when I feel conflicted about the loss of that which made me a mother.

Luiza Brown
NEXT artist: Nikoline Calcaterra
See all the artists in the links in the left-hand column.
If you create or own art concerning menstruation or menopause and are interested in showing it on these pages (it's free!), contact MUM

© 2005 Harry Finley. It is illegal to reproduce or distribute work on this Web site in any manner or medium without written permission of the author. Please report suspected violations to hfinley@mum.org