If you create or own art concerning menstruation or menopause and are interested in showing it on thesepages (it's free!), contact MUM
Marie Claire magazine (Italian edition) featured several of the above artists in an article about this museum and menstruation in 2003. The newspaper Corriere della Sera (Io Donna magazine) (Milan, Italy) and the magazine Dishy (Turkey) showed some of the artists in 2005 in articles about this museum.




The Art of Menstruation at the Museum of Menstruation and Women's Health
---

"Catastrophe at Swan Lake,"
by Ria Lee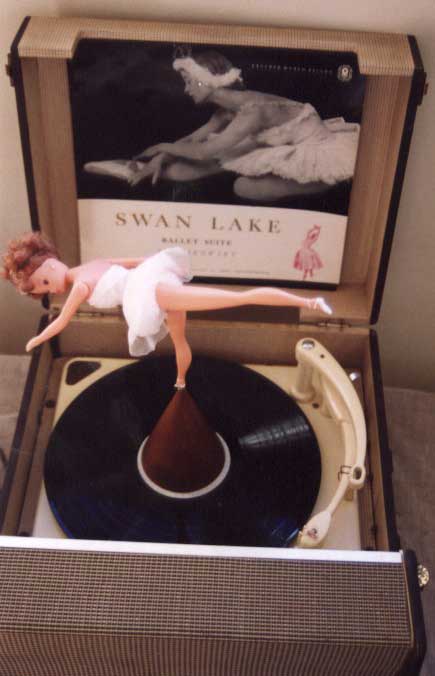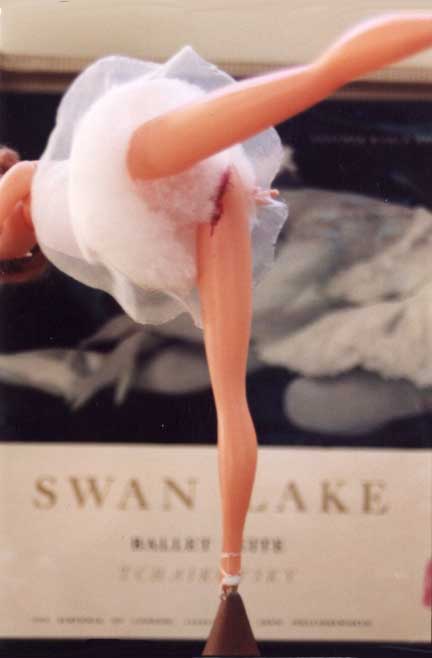 ---
"I'm an emerging New Zealand artist. The majority of my work is based on contemporary social commentary with my concepts being realised in sculpture.
"Within my art practice I have utilized Barbie style dolls to address gender oppressive stereotyping. 'The Disaster Series' consists of three works, each a parody of the consumerism surrounding the doll and the market-place bombardment of innumerable Barbie accessories. The dolls are dressed in individually tailor-made outfits each representing a middle/upper class leisure activity: a pool party, shopping, and the ballet.
"Each work is individually titled: 'Disaster at the Pool-Party,' 'Catastrophe at Swan Lake,' and 'Late This Month? White Trousers Always Brings It On.' The alluded-to disaster is onset of unexpected menstruation; this work is a reaction to the absurd ambiguity surrounding the advertisement of feminine sanitary products.
"The appropriation of Barbie in this series seems apt to me as she, I believe, is the least likely contemporary icon to menstruate due to the fact that she has no genitals.
"I would be extremely honoured if you would consider displaying images of 'The Disaster Series' at MUM.
"Please find attached images of 'Catastrophe at Swan Lake.'
Regards,
Ria Lee"
[By the way, performers who couldn't wear pads, such as ballet dancers, were early users of tampons. See, for example, A.C.C. Tamponettes and Lox theatrical tampons - "Lox" meaning the tampon was locked in and couldn't fall out during a performance.]
NEXT artist: Sharon Lee
See all the artists in the links in the left-hand column.
If you create or own art concerning menstruation or menopause and are interested in showing it on these pages (it's free!), contact MUM

© 2002 Harry Finley. It is illegal to reproduce or distribute work on this Web site in any manner or medium without written permission of the author. Please report suspected violations to hfinley@mum.org