If you create or own art concerning menstruation or menopause and are interested in showing it on thesepages (it's free!), contact MUM
Marie Claire magazine (Italian edition) featured several of the above artists in an article about this museum and menstruation in 2003. The newspaper Corriere della Sera (Io Donna magazine) (Milan, Italy) and the magazine Dishy (Turkey) showed some of the artists in 2005 in articles about this museum.



The Art of Menstruation at the Museum of Menstruation and Women's Health
---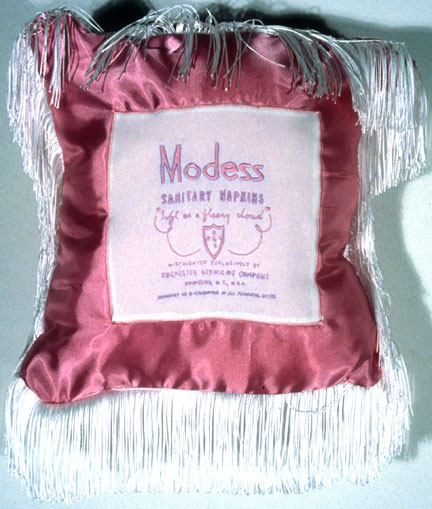 "Soft as a Fleecy Cloud"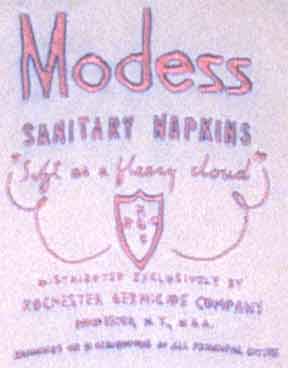 Detail from the pillow.


---
Artist Jennifer Boe writes, "The piece was recently sold at an auction for The Kansas City Artists Coalition."
She adds, "I grew up in a small town in the Bible belt were applicatorless tampons were met with a smirk. A girl would ask for a tampon, I would hand her an o.b. (a product which I enjoyed using because there was less trash and they could fit easily into my jeans pocket) and you'd think that I was offering to lend her my vibrator for the weekend. On one such occasion, the girl actually dropped it like it was a snake and gave me this mean accusing look as though I had just played a very cruel practical joke on her. Within a week there was this bizarre rumor floating around school that I was a lesbian and had propositioned her."
NEXT: Roz Bonnet
See all the artists in the links in the left-hand column.
If you create or own art concerning menstruation or menopause and are interested in showing it on these pages (it's free!), contact MUM

© 2004 Harry Finley. It is illegal to reproduce or distribute work on this Web site in any manner or medium without written permission of the author. Please report suspected violations to hfinley@mum.org