If you create or own art concerning menstruation or menopause and are interested in showing it on thesepages (it's free!), contact MUM
Marie Claire magazine (Italian edition) featured several of the above artists in an article about this museum and menstruation in 2003. The newspaper Corriere della Sera (Io Donna magazine) (Milan, Italy) and the magazine Dishy (Turkey) showed some of the artists in 2005 in articles about this museum.



The Art of Menstruation at the Museum of Menstruation and Women's Health
---
"10 Tablespoons a Month"
It's inspired by an artist on this site and "documents all the sanitary paraphernalia that a woman uses monthly. . . It's headless because it's every woman who has a menses."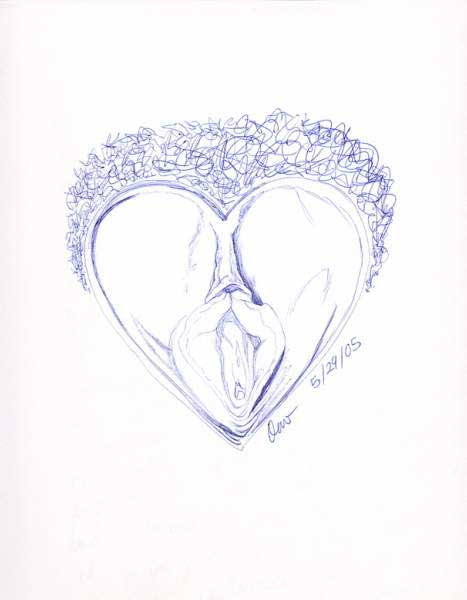 "The Gift'
It shows "how vaginas have a flower-like quality."

'Bleed for God'
Also uses menstrual blood.
ALL ART COPYRIGHT 2005 Quiara Z. Escobar
The artist Zoey (Quiara Z. Escobar) writes that she used pencil, then ink and red marker on paper 14"x11" originally. She's an art teacher and painter who lives in New York City. She continues,
I realized how I hid my menses each month and became aware of messages I receive which are mostly negative. I read a t-shirt once that said I don't trust anything that bleeds for five days and lives. Our culture sees menstruation as something unclean and yet without it we can not create life.

I had a friend who wouldn't allow menstruating women to sit in his house. He was scarred as a child when he found a disposed pad in the trash and thought his mom was dying. If it weren't hidden but revered then beliefs about menses would be different. Hiding menstruation, tampons, pads, and experiences leads to warped thinking, misconceptions, ignorance and shame. I can honestly say that my cycle has come and gone and I have seen it as a nuisance at times, an inconvenience, punishment from God or a blessing when I see my nieces and nephews.

I must say I was pleasantly surprised by your site. A museum dedicated to menstruation. For some reason this month as I received my menses I felt that everywhere I turned there was dialogue on the subject. Tampon commercials (you know she can't sleep in white pjs and sheets), ads and conversations in passing.

On the View they dedicated one whole segment; who knew that every month those 10 tablespoonful of blood would inspire a museum. I got online and researched menstruation and was amazed to find your site. I went to dinner last night with some friends and told them about your site. They were floored. I was wondering if you still do private visits to the museum? A group of my friends would like to visit your establishment.

Also, in my family tampons were seen as hymen breakers or de-virginizers. So to say the least I was not encouraged to used them. I had to hide them from my mom and wear those diapers called pads instead.

Thank you for your time and efforts on behalf of women,

Namaste,

Zoey
NEXT artist: Fanni Fazekas
See all the artists in the links in the left-hand column.
If you create or own art concerning menstruation or menopause and are interested in showing it on these pages (it's free!), contact MUM

© 2005 Harry Finley. It is illegal to reproduce or distribute work on this Web site in any manner or medium without written permission of the author. Please report suspected violations to hfinley@mum.org