If you create or own art concerning menstruation or menopause and are interested in showing it on thesepages (it's free!), contact MUM
Marie Claire magazine (Italian edition) featured several of the above artists in an article about this museum and menstruation in 2003. The newspaper Corriere della Sera (Io Donna magazine) (Milan, Italy) and the magazine Dishy (Turkey) showed some of the artists in 2005 in articles about this museum.




The Art of Menstruation at the Museum of Menstruation and Women's Health
---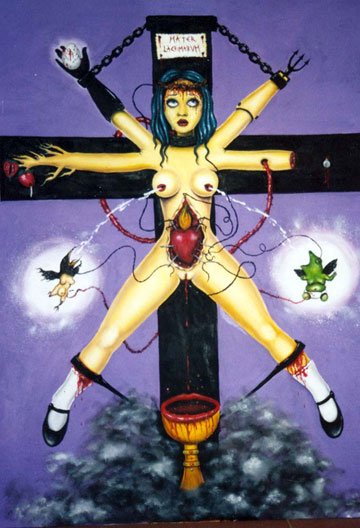 "Mater lacrimarum"


---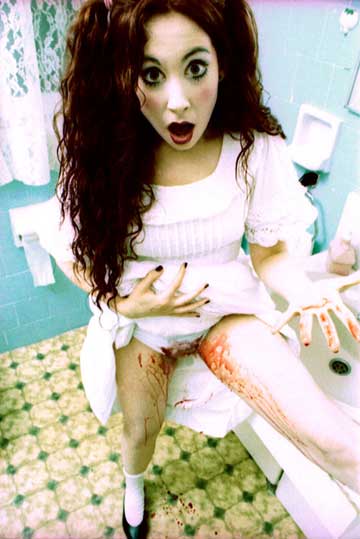 "My First Menstruation," 1999,
photograph of the artist. All pictures copyright the artist.
Next (to page 2 of 2)
The artist writes,
Ana Elena Pena is a versatile artist from Valencia (Spain) who has created pictures and performances about sex and violence. After a brief contact with the world of comics (with the fanzine "Who does love Eggy Crash?"), and photography ("My First Menstruation"), she made her debut as a shorts director with "Puppyta sexual" and "De-generation X." The doll collection she has made recently, "Sweets & Needles," tries to rediscover and subvert feminine archetypes which underlie the collective unconscious with a combination of sweetness and sadism, erotism and ingenuousness, from the virginal goddess to the "femme fatale." Lovelies and evil women, glamorous pornostars, depraved nurses, goddesses of love and death that mix to perfection the right doses of pain and pleasure, Eros and Thanatos in eternal fight.
NEXT art from Pena (to page 2 of 2)
NEXT artist: Melina Piroso
See all the artists in the links in the left-hand column.
If you create or own art concerning menstruation or menopause and are interested in showing it on thesepages (it's free!), contact MUM

© 2003 Harry Finley. It is illegal to reproduce or distribute work on this Web site in any manner or medium without written permission of the author. Please report suspected violations to hfinley@mum.org