If you create or own art concerning menstruation or menopause and are interested in showing it on thesepages (it's free!), contact MUM
Marie Claire magazine (Italian edition) featured several of the above artists in an article about this museum and menstruation in 2003. The newspaper Corriere della Sera (Io Donna magazine) (Milan, Italy) and the magazine Dishy (Turkey) showed some of the artists in 2005 in articles about this museum.



The Art of Menstruation at the Museum of Menstruation and Women's Health
---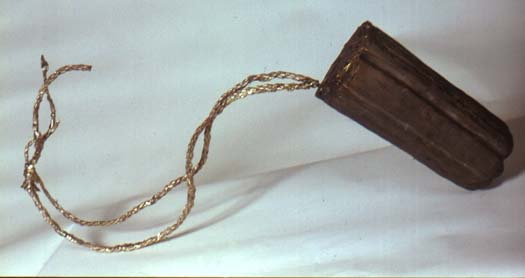 "Shove it!"
2001
Bronze, approx. 1 meter x 0.30 meter
Isa Menziest writes,
Basically I loved the idea of creating a giant tampon out of bronze - tampons (and all other sanitary products) in Australia attracted a "luxury tax" (which has now been replaced by the GST); by creating this most 'luxurious' of items (HA!) in bronze I guess I wanted to have a bit of a dig at that.

I also think that in this allegedly "post-feminist" era we need to seriously examine the ways we are manipulated - with all its marketing-generated connotations of freedom, the word "tampon" actually means "plug." The idea of celebrating aspects of feminine culture - especially the once taboo subject of menstruation - is also a key theme.

It doesn't have to be loaded with political significance, though - it appeals most to one's sense of humour - and it always gets a reaction!!

I myself am a "mature-age" student (big deal - that just means I'm over the age of 21!) at the University of Western Sydney, where I am in my second year studying social ecology. Creativity in all its forms is my passion, and sometimes it's unleashed in the form of art works like "Shove it!" When I grow up I want to change the world.

And later she added,

Yup, it is bronze - not solid; it has an inner core of refractory material (the stuff we use to make molds for casting), but it weighs twenty kilograms nonetheless!! It's not HUGE - the body would be about 50 cms long, and the tail maybe twice that - but the tail is detachable, so you can arrange it however. Sorry, I don't have it here so I can't give you exact measurements.

I would love to make a huge one, like with a body of over a metre. Hm . . . . (!)
NEXT artist: Megan Morris
See all the artists in the links in the left-hand column.
If you create or own art concerning menstruation or menopause and are interested in showing it on these pages (it's free!), contact MUM

© 2001 Harry Finley. It is illegal to reproduce or distribute work on this Web site in any manner or medium without written permission of the author. Please report suspected violations to hfinley@mum.org