If you create or own art concerning menstruation or menopause and are interested in showing it on thesepages (it's free!), contact MUM
Marie Claire magazine (Italian edition) featured several of the above artists in an article about this museum and menstruation in 2003. The newspaper Corriere della Sera (Io Donna magazine) (Milan, Italy) and the magazine Dishy (Turkey) showed some of the artists in 2005 in articles about this museum.




The Art of Menstruation at the
Museum of Menstruation and Women's Health
---
Menstrual blood pictures
by Petra Paul (Vienna, Austria)
page 1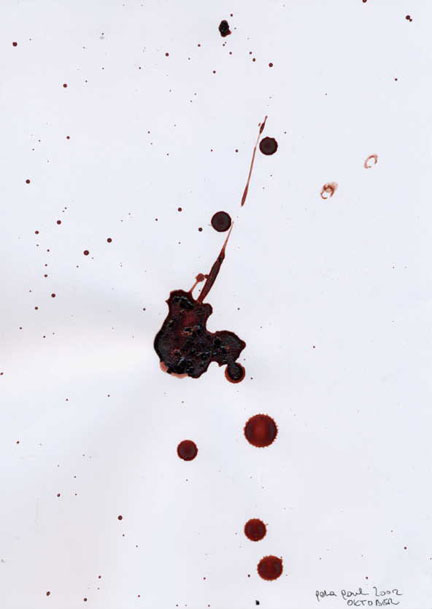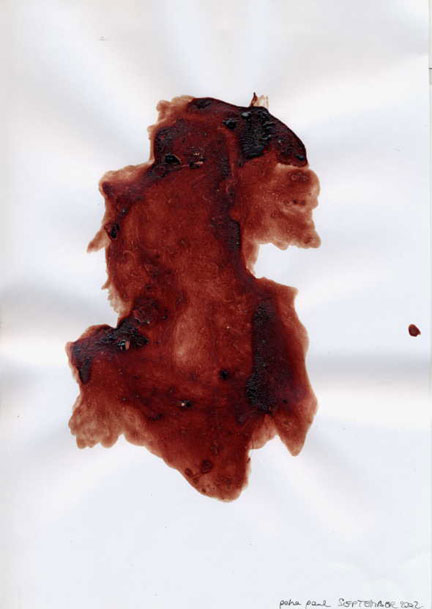 All pictures are 30 x 21 centimeters (about 11.1 x 8.2 inches) and use the artist's menstrual blood.
NEXT page 2, 3, 4 Interview with Petra Paul
Petra Paul writes (Harry Finley's translation of her e-mail from German, which follows the cartoon),
Dear Harry,

I'm happy that you're showing my pictures on your homepage. I've had the most varied reactions to the exhibited pictures here in Vienna - some were negative. But those are mostly from women who are disgusted by pictures of menstrual blood. That inspired me to draw the cartoon that I've sent you [below].

How did you get the idea of starting a menstruation museum? I think it's great what you're doing - this museum is probably unique.

Greetings from Vienna,

Petra
Translation of Ms. Paul's cartoon:
Box 1: "Blah, blah, blah, 33" - "I'm 13" - "14"
Box 2: "I've got to go to the toilet."
Box 3: "AAAARGH"
Box 4: "Screech!"
Box 5: "Many women can't tolerate the sight of blood. Therefore they're in a coma 3-4 days every month." Petra Paul 2003
Original e-mail, translated above:
Lieber Harry,

es freut mich, dass Sie meine Bilder auf Ihre Homepage stellen. Habe hier in Wien die verschiedensten Reaktionen auf die ausgstellten Bilder erlebt - manche waren negativ. Es sind aber meist Frauen, die sich vor Menstruationsblutbilder ekeln. Dadurch wurde ich zu einem Comic inspiriert, der Ihnen gesandt wird.

Wie kamen Sie eigentlich auf die Idee, ein Menstruationsmuseum zu machen? Ich finde es toll, was Sie machen - dieses Museum ist wohl einzigartig.

Liebe Grüße aus Wien

Petra

---
More menstrual blood pictures by Petra Paul: NEXT page 2, 3, 4 Interview with Petra Paul
NEXT artist: Ana Elena Pena
See all the artists in the links in the left-hand column.
If you create or own art concerning menstruation or menopause and are interested in showing it on these pages (it's free!), contact MUM

© 2003, 2014 Harry Finley. It is illegal to reproduce or distribute work on this Web site in any manner or medium without written permission of the author. Please report suspected violations to hfinley@mum.org