t
If you create or own art concerning menstruation or menopause and are interested in showing it on thesepages (it's free!), contact MUM
Marie Claire magazine (Italian edition) featured several of the above artists in an article about this museum and menstruation in 2003. The newspaper Corriere della Sera (Io Donna magazine) (Milan, Italy) and the magazine Dishy (Turkey) showed some of the artists in 2005 in articles about this museum.




The Art of Menstruation at the Museum of Menstruation and Women's Health
---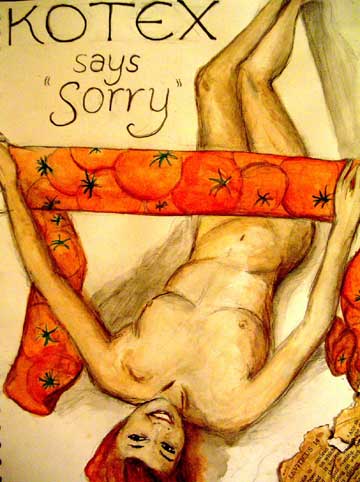 "Kotex says Sorry is intended to promote a positive although surreal representation of menstruation. The images were painted originally and then photographed and printed out in large scale for exhibition purposes. The style of the female body parodies the form taken by American Pin-up artist Gil Elvgren," writes the artist.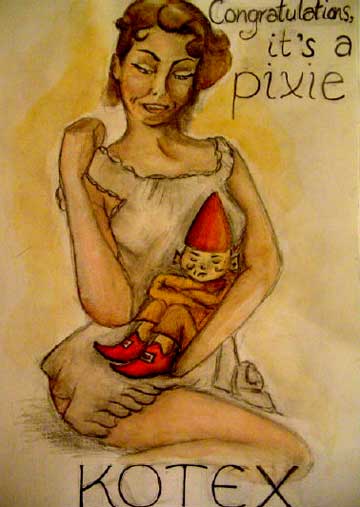 "This is the centre-piece of my artwork on menstruation. As I have explained, the pixie represents the menstrual period, hence taking the place of what has not transpired to be a human foetus. The image is intended to be celebratory of what is commonly termed as the women's 'curse.' This image was made into a sculpted model (next page)."
(Next artist: Elvira)
The artist, Natalie Aniela Dybisz, England, is studying BA (Hons) English and Media at the University of Sussex, and writes,
"For a long time now I have been intrigued by menstruation as a symbol of womanhood, but more so by the imagery surrounding menstruation. The theme of my artwork started as 'Illusionism' ­ I began by looking at the Bible and questioning its authority, interpreting it as I would any media text. I then linked menstruation to this when I came across Leviticus.

"I am more interested in the attitudes to menstruation than the science of the blood itself. I therefore refrained from creating shock art or goriness; I wanted to depict menstruation in an endearing manner by using such images of strawberries and tomatoes. I turned around euphemisms that use horror imagery, such as 'the pixies are coming,' and made a surreal adaptation 'Congratulations, it's a pixie.'

"What I want to communicate is that menstruation is only as bad a thing as any bodily function, and more so, a positive function. Whilst it is unfairly seen as a taboo issue, it is beneficent for art to depict it in divergent ways. I do not want to glorify women or glorify menstruation, but as a novelty, I will spotlight menstruation as I have done in 'Congratulations, it's a pixie.' This is a metaphor for discovering you are on your period, it is not intended to allude to birth or sex at all. I have simply used the idea of birth to hyperbolise one's period, to celebrate the fact that the woman can rejoice that once again she has evaded the often oppressed responsibilities of childbearing and housewifery. Simply put, I strived to create an entertaining piece of surrealism that throws a positive light on women and menstruation."
NEXT artist: Elvira
See all the artists in the links in the left-hand column.
If you create or own art concerning menstruation or menopause and are interested in showing it on these pages (it's free!), contact MUM

© 2005 Harry Finley. It is illegal to reproduce or distribute work on this Web site in any manner or medium without written permission of the author. Please report suspected violations to hfinley@mum.org