If you create or own art concerning menstruation or menopause and are interested in showing it on thesepages (it's free!), contact MUM
Marie Claire magazine (Italian edition) featured several of the above artists in an article about this museum and menstruation in 2003. The newspaper Corriere della Sera (Io Donna magazine) (Milan, Italy) and the magazine Dishy (Turkey) showed some of the artists in 2005 in articles about this museum.



---
"Art of Gynecology"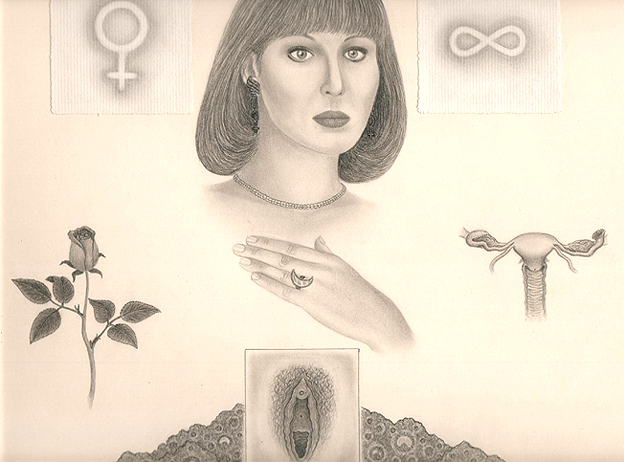 Dr. Soucaseau contributed this in July 2004.

Bleeding Rose 1

Bleeding Rose 2

art © 1977, 2001, 2005 Nelson Soucasaux
NEXT page of Dr. Soucasaux's art.
The artist writes,
"Both pictures were made in 1977, and I was drawing very much at that time. These were my first times of gynecologic practice, since I was graduated in 1974. In retrospect, wonderful times."
He is especially dedicated to clinical, preventive and psychosomatic gynecology. Graduated in 1974 by Faculdade de Medicina da Universidade Federal do Rio de Janeiro, Brazil, he is the author of several articles published in medical journals and of the books "Novas Perspectivas em Ginecologia" ("New Perspectives in Gynecology") and "Os Órgãos Sexuais Femininos: Forma, Função, Símbolo e Arquétipo" ("The Female Sexual Organs: Shape, Function, Symbol and Archetype"), published by Imago Editora, Rio de Janeiro, 1990, 1993.
Dr. Soucasaux has written many article for this Web site; see the links in the column at left.
NEXT artist: Paula Speakman
See all the artists in the links at the top of the left-hand column.
If you create or own art concerning menstruation or menopause and are interested in showing it on these pages (it's free!), contact MUM

© 2001-2004 Harry Finley. It is illegal to reproduce or distribute work on this Web site in any manner or medium without written permission of the author. Please report suspected violations to hfinley@mum.org