If you create or own art concerning menstruation or menopause and are interested in showing it on thesepages (it's free!), contact MUM
Marie Claire magazine (Italian edition) featured several of the above artists in an article about this museum and menstruation in 2003. The newspaper Corriere della Sera (Io Donna magazine) (Milan, Italy) and the magazine Dishy (Turkey) showed some of the artists in 2005 in articles about this museum.




The Art of Menstruation at the Museum of Menstruation and Women's Health
---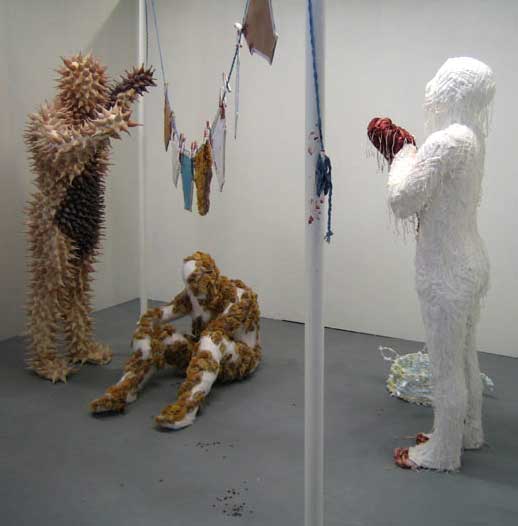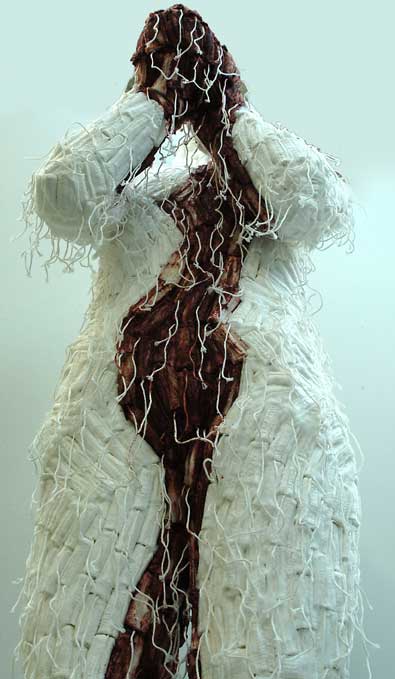 The artist writes:
I am a recent fine art graduate from England whose final year was spent producing mixed media sculpture about the negative impact that patriarchy stemming from religion has had on women with regards to menstruation.

Synopsis of work:

Menstruation is still seen as a 'curse' in contemporary western society, deriving from Christianity (the fall of Eve) and women have still not recovered from these associations. Like many other cultures in the world to bleed from an orifice suggests that there is something wrong. The fact that a women's sexual organs are internal, therefore hidden, suggests that menstruation is demonized as a contaminant. Due to this menstruation is openly "disguised" through sanitary products, sold to conceal a natural body function from the rest of the world, not to "protect" the wearer from leakage to smells but everyone else. Women should feel comfortable in their own skin, but due to patriarchal control stemming from Christianity, they buy into the belief that menstruation is dirty. Currently this is a dangerous cycle (much like the act of menstruation) and is being passed on from one generation to the next leading to a vicious cycle of cleansing the contamination, and contamination of the clean. The solution to the problem is to externalize this and women's bodily functions so they are no longer concealed from the rest of society, so they are confronted, discussed, in order to reverse these conceptions.

My answer to this was a 3-D mixed media installation of a mother and her two daughters in a domestic scenario made of sanitary products such as tampons, sanitary towels, natural sea sponge and the 'keeper'.

I was wondering whether you would consider adding my work to your site in your section of art about menstruation. Your website provided an invaluable resource to me whilst doing my degree and I would like to contribute something back.

Yours sincerely,

Roz Bonnet
NEXT artist: Luiza Brown
See all the artists in the links in the left-hand column.
If you create or own art concerning menstruation or menopause and are interested in showing it on these pages (it's free!), contact MUM.

© 2006 Roz Bonnet. It is illegal to reproduce or distribute work on this Web site in any manner or medium without written permission of the author. Please report suspected violations to hfinley@mum.org