If you create or own art concerning menstruation or menopause and are interested in showing it on thesepages (it's free!), contact MUM
Marie Claire magazine (Italian edition) featured several of the above artists in an article about this museum and menstruation in 2003. The newspaper Corriere della Sera (Io Donna magazine) (Milan, Italy) and the magazine Dishy (Turkey) showed some of the artists in 2005 in articles about this museum.



The Art of Menstruation at the Museum of Menstruation and Women's Health
---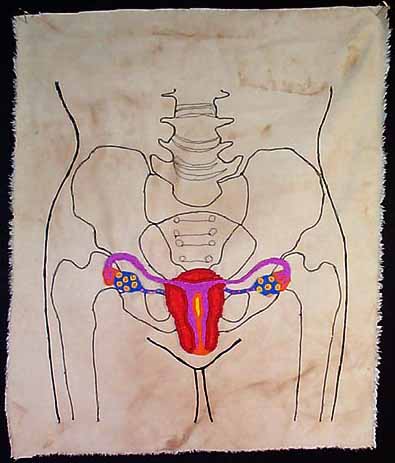 Close-up, below.

"Front View, Side View"
By Thomasin Durgin
(Scroll down for "Side View")
18"x 21.5" (45.72 x 54.61 cm), and
16" x 22" (40.64 x 55.88 cm) (below)
Materials used are tea stained cotton canvas, thread and seed beads.
"This diptych portrays the often cold attitudes of the medical establishment toward the womb, versus it's personal and emotional significance. The black line drawings were stitched freely on the sewing machine, with densely hand beaded areas," the artist writes.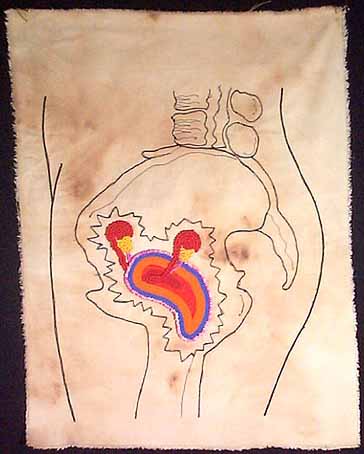 Close-up, below.

"Side View"
16" x 22" (40.64 x 55.88 cm)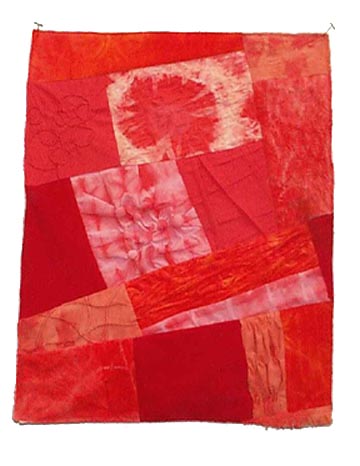 "Red Flag"
a piece on menstrual bleeding
By Thomasin Durgin
17" x 21" (43.18 cm. x 53.34 cm.)
Made from cottons, velvets and silks that the artist dyed herself.
Ms. Durgin is a fiber artist and graduate student at the Memphis College of Art, Memphis, Tennessee (U.S.A.).
Visit Ms. Durgin's Web site. See the other Red Flag, by Judy Chicago.
NEXT artist: Natalie Aniela Dybisz
See all the artists in the links in the left-hand column.
If you create or own art concerning menstruation or menopause and are interested in showing it on these
pages (it's free!), contact MUM

© 1997 Harry Finley. It is illegal to reproduce or distribute work on this Web site in any manner or medium without written permission of the author. Please report suspected violations to hfinley@mum.org