If you create or own art concerning menstruation or menopause and are interested in showing it on thesepages (it's free!), contact MUM
Marie Claire magazine (Italian edition) featured several of the above artists in an article about this museum and menstruation in 2003. The newspaper Corriere della Sera (Io Donna magazine) (Milan, Italy) and the magazine Dishy (Turkey) showed some of the artists in 2005 in articles about this museum.




The Art of Menstruation at the Museum of Menstruation and Women's Health
---


"Only she hurts this much,"
by Melina Piroso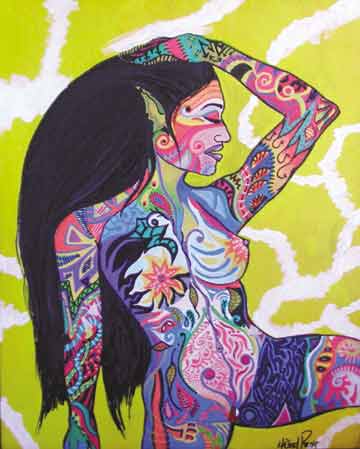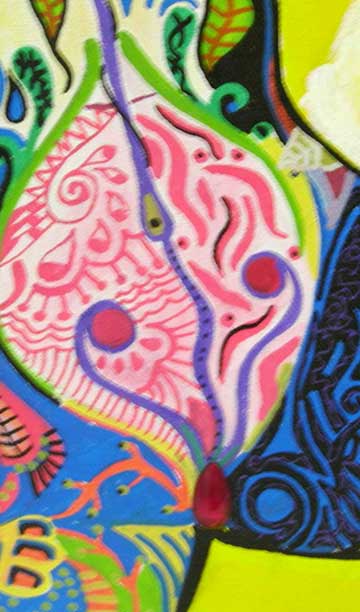 Detail of painting.
The artist writes,
Attached is my painting which I unofficially call "Only she hurts this much," "she" referring to my period. Upon first glance it may seem to be of a more sexual nature - the woman seems to be closing her eyes and running her fingers through her hair. Yet the overbearing emotion in this painting is pain. I completed this piece during a particularly rough bout of cramps. To be honest, I didn't know what the nature of the painting would be until I completed the abdomen. I took one look at it, and knew exactly what I was trying to say! It was then I realized the painting was about my pain.

The only two areas of her body with tenderness expressed through color are her face and her abdomen. They are both delicate shades of pink, while the rest of her is composed of dark and powerful colors. A ruby-colored stone pointing upwards represents her vagina. You can also see the emergence of two ovaries from this point.

In the dark blue area of her leg that is propped up appear words. This is very hard to see, but in the leg it says "only she hurts this much." It looks almost like a psychedelic album cover from the 60's.

You might also notice the unusually large elf ears and hands. I haven't figured out why I did this.

Anyway! Lol, sorry for such a long spiel. Well, I am 22, from Argentina, and have painted my whole life. Most of my work is somewhat surrealist in nature. Lately I have been painting these colored ladies. I expect to have a Web site up and running soon.

Thanks!

Melina
NEXT artist: Elentye Paulauskas-Poelker
See all the artists in the links in the left-hand column.
If you create or own art concerning menstruation or menopause and are interested in showing it on these pages (it's free!), contact MUM

© 2003 Harry Finley. It is illegal to reproduce or distribute work on this Web site in any manner or medium without written permission of the author. Please report suspected violations to hfinley@mum.org